Best Credit Card in UAE
Find the best credit card for you
We'll help you to compare over 50+ top credit cards across UAE and find the right one for you.
How to Apply for a Credit Card in UAE?
Applicants can visit the credit card provider branch or can apply through the bank's website directly. Or the applicant can apply through our online portal UAE Cash Loans. We can help you to choose your desired credit card as per your spending habits and needs. By visiting our online portal you can easily find the best credit cards in UAE market along with their features, eligibility, best use, and other details. You can compare features and once you have finalized which card is best suited for you, you can apply for the credit card by simply clicking on the "Apply Now" button and filling in up few details. Online comparison is the best way to choose the best credit cards in UAE.
Features to compare before opting for a credit card:
1. Annual Fee: Not all but most of the credit cards with premium features and benefits come with an annual maintenance fee. Applicant should read carefully the charges and fees tagged along with the credit card.
2. Interest or Profit Rate: All credit facilities come along with an interest or profit rate. The applicant must compare interest rates on different credit cards and find out the lowest possible option.
3. Key Benefits: Each credit card has its unique categorial feature like cashback card, reward point card, air mile card, travel benefits card, and these unique features add up as an advantage while purchasing any goods or services. You can select the credit card which would give you the maximum rewards and benefit as per your spending habits and needs.
4. Eligibility: There is minimum income eligibility criteria for obtaining any credit card in UAE. So, before applying for any credit card, the applicant must check his/her eligibility to obtain that card.
Documents Required to Apply for a Credit Card in the UAE
The applicant needs to submit the following documents to apply for a credit card:
1. Application Form: A duly filled and signed credit card application form.
2. KYC Documents: Passport and Visa Copy and Emirates ID.
3. Income Proof: A valid Salary Certificate or latest Payslips.
4. Bank Statement: 3-6 months Bank statement showing regular salary credits.
Most Popular Credit Cards in UAE 2021
FAB Cashback Card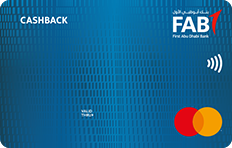 ➤ Minimum Salary Required AED 5,000 ➤ Annual Fee AED 315
➤ Best Used for: Cashback, Movie Offers, Hotel Discounts, Travel benefit, Airport Lounge Access